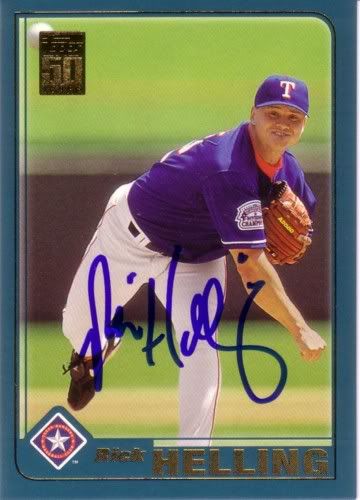 By Bill
By July 1 in 2001, we're about as close as possible to the exact halfway point of the season, as most teams have played either 80 or 81 games (about 3-4 games behind where we were on 7/1/11).
Barry Bonds
already has 39 home runs,
Luis Gonzalez
32. Rookie
Ichiro Suzuki
is batting .345 with six triples and 27 steals; rookie
Albert Pujols
is batting .344/.411/.632 with 21 homers. The Rockies' big free agent signing of last winter,
Mike Hampton
, is 9-4 with a brilliant-for-2001-Coors 3.76 ERA, and
Randy Johnson
's just eleven shy of 200 strikeouts.
Here's one interesting thing from each day in the last week of the first half:
Monday, June 25
:
Greg Maddux
throws a typical Greg Maddux game: 7 innings, 7 hits, 2 runs, 0 walks, 7 strikeouts, using just 78 pitches in a
9-4 Braves win
over the Phillies. Oddly, he was pulled not for a pinch hitter, but for mediocre reliever
Kerry Ligtenberg
.
Tuesday, June 26
: The Rangers'
Rick Helling
on one side and a stable of five Angels on the other duel to a 1-1 tie through regulation. Then, in the 11th, all that bullpen overmanagement comes back to haunt Mike Scioscia and the Angels, as something named Mark Lukasiewicz surrenders six hits (two more than the Rangers had had in the previous ten innings) and seven earned runs while retiring just one batter, giving the Rangers a 7-1 win in 11 innings.
Wednesday, June 27
: Two interesting players see their last big-league action: John Jaha, a very talented but injury-plagued slugger who hit 34 homers for Milwaukee in 1996 and 35 (with a 152 OPS+) for the A's in 1999; and Charlie Hayes, who had his one very good year in the Rockies' inaugural season of 1993 (117 OPS+, 3.1 WAR, 25 homers and a league-leading 45 doubles) and caught the final out of the 1996 World Series for the Yankees. Jaha's end comes with an 0-for-4 as DH and cleanup hitter for the A's, Hayes' with an 0-for-4 (with four strikeouts) as the Astros' 3B.
Thursday, June 28
: The dreadful Brewers and Pirates fight it out to a dreadful
1-0 Pirates win
in which the two dreadful offenses were shut down by dreadful pitchers with the following names:
Jamey Wright
,
Ray King
,
Chad Fox
,
Todd Ritchie
,
Mike Lincoln
, and
Mike Williams
. The teams go 2-for-16 with RISP and leave 17 runners on base; the lone run scores when Jon Vander Wal doubles home
Aramis Ramirez
in the second.
Friday, June 29
: Speaking of unimpressive shutouts; the Orioles'
Josh Towers
and Mike Trombley combine to
blank the White Sox 4-0
. Towers gives up six hits and two walks, but the Orioles don't get their first strikeout until Trombley gets Canseco swinging with one out in the ninth. The whole Sox lineup is strikeout prone, so that's quite a feat.
Saturday, June 30
: 27 year old
Miguel Tejada
homers in the first, second and ninth -- giving him sixteen on the year -- adds a fourth hit and collects 8 RBI as the
Athletics crush the Rangers 15-4
.
Sunday, June 1
:
Freddy Garcia
shuts out the Angels on 8 hits and 2 walks, with 2 strikeouts, and the
Mariners win 5-0
. Journeyman
Bret Boone
hits his 21st homer and is now hitting .328/.364/.585 through the team's first 80 games. Garcia's record is now 9-1, and the Mariners are 59-21 (.738, on pace for 120 wins) and 21 games ahead of the A's and Angels, tied at 38-42.