By The Common Man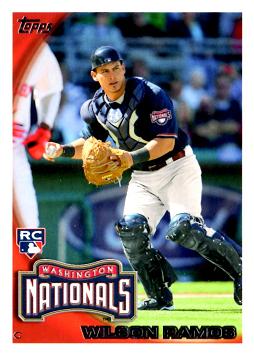 Normally, we like to have fun on TPA. Barring that, we (ok, mostly The Common Man) like to work up a good righteous indignation. But there's nothing about the Wilson Ramos situation that's funny. And, frankly, The Common Man is just left with an incredible feeling of sadness over the violence done to this young man.
If you're unaware, news broke last night that four gunmen broke into Ramos' home in Venezuela soon after the young catcher arrived, and dragged him out in front of his wife and family. Ramos remains missing, and there has been no word as to whether he is in good shape or not.
The history is not positive. Carlos Zambrano's mother was kidnapped in 2009 and was rescued three days later. Yorvit Torrealba's young son was also kidnapped in 2009, and his parents paid the ransom to get him back. But catcher Henry Blanco's brother was found shot to death a day after he was kidnapped in 2008. Presumably, Ramos' family and/or the Washington Nationals will find a way to pay for Ramos' release, even though Ramos has only earned around $450,000 in his Major League career (which, admittedly, is a huge amount in Venezuela).
At this point,
as Kevin Goldstein has pointed out
, Venezuela has become a very complicated problem for Major League Baseball and the players who hail from that country. It's clear that, without adequate security, players and their families are not safe. But simply saying that a player should abandon their homeland and move their families is too simple by far. If the U.S. was more dangerous and violent, would you move to Canada? Or France, Japan, or Russia where you didn't know the language? Would you stay and try to make it better? And do you truly have that option when you are just 24 years old with barely over a full season of Major League experience?
What is happening to Wilson Ramos and his family is horrifying. It's also a reminder that the world is far more dangerous than many of us like to acknowledge, and that success can make some people a target. There don't seem to be easy solutions. Perhaps MLB teams can provide assistance for young players to hire additional security. Perhaps they can urge players to live closer to police and arrange escorts when they return home. Perhaps additional education about the dangers is important.
Regardless, none of those things matter for Wilson Ramos and his family today. All that matters is that Ramos is returned to his family unharmed. That's what we at TPA are praying for.