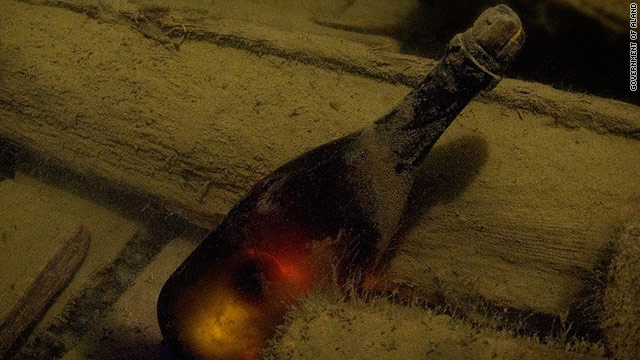 Last week,
CCN.com reported
that divers in Scandanavia have uncovered the oldest drinkable beer in the world, an unidentified shipment of brew that was reportedly on its way to Russia sometime between 1800 and 1830 when it went down with the ship. There it sat, at the bottom of the sea, until its recent recovery.
Researchers will be using the next few months to determine its exact composition and recipe, during which TCM is sure that they'll sneak a taste when no one's looking. But The Common Man will, sadly, never get to drink it. This may not be a terrible thing, mind you, as there's no real sense of whether the beer has gone flat in 200 years. But the culture inside of it is still, apparently, active, and it has been stored at ideal temperatures (near freezing) and light levels (none) for its entire life. It may damn well be the best beer in the world, in addition to being the oldest. But we'll never know.
Obviously, the oldest beer in the world reminds us that, despite the injuries that sidelined him for the back half of 2010, Jamie Moyer is still an active pitcher.
At 47 years old, Moyer is by far the oldest player in the league (almost five full years older than Trevor Hoffman), and has a sprained ligament and tendon in his left elbow. And the Mariners were already making fun of his age back in 2006:
Now, like this beer, he's going to have to be stored on a shelf and studied for a while, in the hopes that we can enjoy him next year.
Moyer, as TCM's sure you remember if you also remember Zubaz, snap bracelets, and when Will Smith gawky teenager in Bel Aire, was a heck of a pitcher once upon a time. From 1993-2003, Moyer threw more than 2000 innings, and won 151 games. He sported a 118 ERA+, a 2.45 K/BB ratio, and was something like 33-34 wins about replacement. He morphed from a 30 year old vagabond to a two-time 20 game winner, an All Star and a Cy Young contender. This beer was, according to some speculation, on the way from the court of King Louis XVI of France to the Russian Imperial Court, so it was undoubtedly excellent in its hey-day.
Sadly, like the unlabeled brewsky from the bottom of the bay, there is no telling, once you pop the top off Moyer next year, what he's going to taste like. Chances are, he'll be skunky. But there's always that glimmer of hope that he'll regain some of the magic he found in June of this year, when he went 4-1 with a complete game. Or like he did in May, when he shut out the Braves. Until he proves he can't throw anymore, The Common Man will look forward to watching him, because he's defied the calendar since 2004. Just like TCM will hope and pray that there's some kind of shipping mistake, and a two-hundred year old beer mistakenly shows up on his doorstep.
Until then, TCM will just have to settle for reposting this recap of Moyer's career he put up on Bill's old site
back in June
:
• Jamie Moyer has pitched during he administrations of five US Presidents, Reagan, H.W. Bush, Clinton, W. Bush, and Obama
• Jamie Moyer debuted with Greg Maddux on the 1986 Chicago Cubs. Maddux was three years younger. Maddux retired two years ago with 355 victories; Moyer's still pitching, and is just 89 wins behind him.
• Jamie Moyer played with Ron Cey, who played with Hoyt Wilhelm, who played with Bob Elliot, who played with Heine Manush, who played with Ty Cobb. That's five degrees of separation.
• Jamie Moyer debuted on June 14, 1986. Two months later, Nick Adenhart was born in Maryland. Adenhart was tragically killed when his car was hit by a drunk driver in April of last year. Adenhart's entire life including his major league career took place during the career of Jamie Moyer.
• In addition to Maddux, Moyer also outlasted Mark Grace, Rafael Palmeiro, Sammy Sosa, Juan Gonzalez, Kenny Rogers, Armando Benitez, and Nomar Garciparra, despite being on the roster already when each them debuted.
• And, perhaps most impotantly, Moyer is the last remaining active player from the 1988 Panini Baseball Sticker album that I tried desperately to complete in the winter of '88. Just look: