By The Common Man
As most of you know, because of the Twins' reluctance to put anyone on the Disabled List until at least a week after they injure themselves, their idiotic insistence on carrying 12 pitchers, and Luke Hughes inability to find the correct gate at the airport (seriously dude, they speak English in Australia, right? Just follow the signs), the Twins were left with no bench yesterday and had to put Joe Mauer out in right field against the Yankees. Mauer was allegedly not very pleased with the prospects of having to don an outfielder's glove, but did so anyway. It's hard for The Common Man to have a lot of sympathy for Joe, however, given that it's become increasingly apparent that he should move out from behind the plate, TCM would prefer him in rightfield in 2012, and Joe gets paid a whole lot of money anyway regardless of where the Twins put him on the diamond.
It's also worth noting that Mauer is hardly the first elite player to play out of position for a game or more. Adrian Gonzalez played right field earlier during Interleague Play to try and keep David Ortiz's bat in the lineup. Yogi Berra and Carlton Fisk played a lot of outfield in their heydays (although the Fisk experiment was a failure), Johnny Bench played some third base and centerfield. And Gary Carter moved all over the diamond to keep his bat in the lineup. And as
Bill pointed out on our weekend gig at Getting Blanked a few weeks ago
, there is a long and proud tradition of great players who got stuck playing out of position, sometimes for games at a time. In fact, there are so many, that TCM's got nine more right here, all of whom were pressed into service for one reason or another:
Catcher:
Jimmie Foxx
The Common Man is cheating a little bit here, especially because almost no elite players are penciled into the lineup behind the plate. Foxx actually came up as a catcher as a 17 year old in 1925, but, since the A's already had Mickey Cochrane, quickly began moving around the diamond so that Connie Mack could get his bat into the lineup, mostly at 1B and 3B. He started 21 games across his first four seasons behind the plate before finding a permanent home at 1B. But he came back to it twice. After he had traded Cochrane, Mack was hurting for a catcher, so he decided Foxx was going to go back to donning the tools of ignorance. Foxx didn't take to it naturally,
calling it
"a tough job for me behind the plate," but managed to start the season hot, hitting .382/.489/.816 a month in. Papers lauded him for the move, but on May 24 Charlie Berry took over and Foxx moved to 1B while no one took notice. Foxx stayed there the rest of the season. Presumably, for some reason, it didn't take. That didn't stop the Red Sox from using Foxx for 42 games behind the dish in 1940.
Incidentally, Foxx also had a fair turn as a some-time pitcher for the Philadelphia Phillies in his final season of 1937. He got into nine games, even starting two of them, and gave up just 4 runs in 22.2 innings. He was 1-0 with a 1.59 ERA and has the lowest career ERA of anyone in the Hall of Fame who pitched more than one game.
First Base:
Joe DiMaggio
Joe D was having, for him, a lot of trouble in 1950. Through his last 60 games, he had been hitting .244/.369/.521 with 15 homers but with just a .202 BABIP. So perhaps it was a relief when Casey Stengel penciled him in at 1B in 1950 to get Hank Bauer in the lineup. It's not clear what Joe's reaction was, but
the New York Times reported
the next day that "the Clipper acquitted himself exceptionally well," despite going 0-for-4. Bauer, however, injured his ankle in the game and sat out the next 11 games. DiMaggio returned to center the next day, and never played first again.
Second Base:
Hack Wilson
If you're anything like The Common Man, you might be wondering why in God's name anyone would think that an aging, cranky, perpetually drunk Hack Wilson should play the keystone once, let alone start there five times in six games.
According to The New York Times
, Tony Cuccinello was out with a pulled leg muscle, while Jake Flowers had been spiked in the foot the previous game. After his first two games, in a doubleheader on August 25, 1933, the
Times
reported that Wilson, "accepted eleven chances, made two errors and helped give the 6,000 fans one of the most entertaining afternoons they've had in weeks" and "the pudgy outfielder" playing 2B was an "extraordinary spectacle." Wilson hit .250/.400/.750 across the five games with two doubles and two homers, but made three errors in 32 chances for a .906 fielding percentage.
Third Base:
Don Mattingly
Bill wrote about how Mattingly spent a game in centerfield in 1985, but The Common Man is much more interested in the two games he started at 3B in 1986, in particular because Mattingly threw left-handed. On August 29, with the Yankees still very much in the AL East race, Mike Pagliarulo went down with a strained hamstring. With utility player Wayne Tolleson already occupied filling Willie Randolph's spot at 2B, Mattingly was pressed into service by Lou Piniella. Piniella was desperate,
telling The New York Times,
"I know everybody thinks I'm nuts, but I've got nobody else to play there." Rickey Henderson was one of those doubters, saying "I thought it was a joke. Don't tell me it's a reality. If we lose two games, we can hang it up. If it's the middle of the season and we're out fo the race, I could see it. But we're not out of the race." Indeed, the Yankees did lose both games that Mattingly started at the hot corner to the lowly Seattle Mariners, and Mattingly would go 2-for-8 and make one error in 13 total chances.
Shortstop:
Lou Gehrig
We laud Lou Gehrig as "The Iron Horse" for his toughness and, while toughness is probably an admirable trait, what we know now about Gehrig and the likelihood that he was a victim of repeated traumatic brain injuries and neurological damage rather than ALS certainly puts his decisions to fight through concussions in a different, infinitely more tragic, light. But Gehrig was proud of his streak, much like Cal Ripken was, refusing to be taken out of the lineup even when it probably would have been better for him and his team.
This was one of those times. On July 13, 1934, the same game that Babe Ruth hit his 700th home run, Gehrig singled in his first at bat before suffering an attack of lumbago (lower back pain) and had to come out. The next day,
The New York Times reports
, Gehrig, "got into the game for a brief spell, just to avoid snapping his consecutive games string…he still is suffering acutely from a cold in the back that makes breathing difficult and swinging a baseball bat torture. Designated as shortstop and leadoff man, Lou slapped a single to right…then gave way to Red Rolfe as a pinch-runner, and returned to his hotel quarters." Despite being listed as the shortstop, however, Gehrig was never required to take the field. The next day, he went 4-for-4 with three doubles, and didn't take another day off until 1939. Still, maybe that games streak should have a little asterisk.
Left Field:
Mark McGwire
McGwire was suffering from a debilitating knee injury, which would eventually end his career the next season, when Tony La Russa figured out a way to get him an some at bats that September. While McGwire couldn't run or field, he could apparently still hit. So, like Joe McCarthy did with Gehrig, La Russa put McGwire at the top of the lineup and let him swing away before replacing him. He was listed as the starting second baseman four times from September 8-11, 2000, going 1-for-4 with a two-run homer. Listed as the left fielder on the 12th, the grounded out to short on the third pitch and was replaced the following inning by Craig Paquette. The next day, he started at shortstop and batted second when he singled and was replaced on the bases by Edgar Renteria. After that, Big Mac was limited to pinch hitting duties the rest of the season. Thankfully, the Cards didn't miss him much. Will Clark, a trade deadline acquisition, hit .345/.426/.655 with 12 homers in 51 games and St. Louis cruised to the division title.
Center Field:
Alan Trammell
This, 1993, was the last productive season for Trammell, but the Tigers were breaking in young slugger Travis Fryman at the shortstop spot. So Trammell played all over, hitting .329/.388/.496 in 112 games. He even got into four games in centerfield, despite being 35 years old and never having played center in his professional career. In spring training, the Chicago Tribune suggested that he "looked comfortable" there, and
Trammell felt like
"I'm playing as if I was at shortstop – a very deep shortstop. He played four games there, but showed very little range and the experiment was dropped after a month and a half.
Right Field:
Jackie Robinson
Jackie played all over the diamond during his career, even starting 145 games in left field, most of them in 1953 and 1954, but only played right field once, in September of 1954. Carl Furillo, "The Reading Rifle," was out with an injured right wrist thanks to a collision with Duke Snider. So for one game only, Jackie took over,
telling reporters
, "I just hope they don't hit any out there tonight." He didn't get his wish. The Cardinals hit seven balls to right that day, and Jackie caught two of them. He also had a double and an RBI at the plate. Concerned about preserving the win, Walter Alston substituted Furillo in in the 9th, but it wouldn't matter. The Cards scored two and the Dodgers lost. Furillo was back the next day and Jackie went back to playing 3B.
Incidentally, that next day, Jackie left the field early, when a woman claiming to be his mother called the Dodgers five times.
According to The New York Times
, "The woman reportedly said that she didn't want Jackie to be taken out of the game but that his little daughter was 'very sick.'" Jackie's mother was in California at the time, but he frantically began calling his wife from the team offices and found out that their daughter was fine. By that time, he had been officially replaced by Don Hoak. The prankster was never found.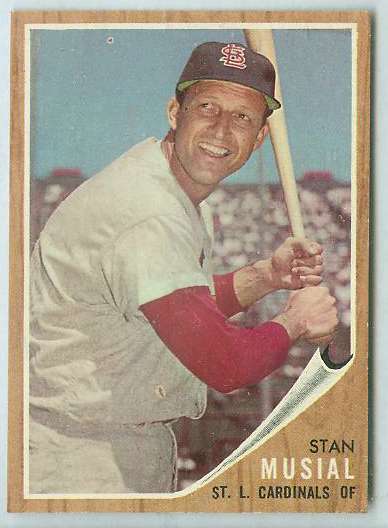 Pitcher:
Stan Musial
We started by cheating, so we'll end by cheating, since Musial technically didn't start this game, Harvey Haddix did. However, Musial's appearance was scripted from the start. Stan Musial was considered a fair pitcher in the minor leagues who occasionally also played in the outfield. One day, he stumbled in the outfield and fell on his shoulder, ruining it. So he took up hitting full time and became…well, Stan Musial. On the last day of the season in 1952, he was leading lefty-swinging Frank Baumholtz of the Cubs in the batting race by 10 points, so manager Eddie Stanky, according to Bauholtz in
an interview for the book The Pastime in Turbulence
, "worked up a deal with the press that Musial was going to pitch to me." After Haddix gave up a single to start the game, Stanky brought in Musial, much to Baumholtz's surprise,
"Phil Cavaretta was my manager and he came out to the plate to talk to me. He said, 'It looks like Musial is going to pitch to you.' I said, 'I'm going to bat righthanded if he does.' He said, 'Did you ever bat righthanded?' 'No, I never swung the bat righthanded in my life.' He said, 'If you don't bat righthanded, you don't have a gut in your body!'

"Well, I did. He threw one pitch and I hit the blazes out of the ball! I hit a low line drive that hit [Solly] Hemus right on the right shin and rolled down in the left field corner. I ended up on second base and they flashed the error on the board….

At the end of the inning [Musial] called the press box and said, 'If I ever saw a basehit in my life, that was it.'"
That was it for Musial's pitching career. Stanky removed him from the game and brought Haddix back from right field. And thus, as did New Ulm natives Doc Hamann and Fred Bruckbauer, Stan Musial became one of just 21 pitchers in baseball history to be credited with pitching a game in his career, but never recording an out. He is, of course, the only one of these pitchers in the Hall of Fame.