By The Common Man
The Common Man believes that children are our future. If you teach them well, and let them lead the way, they'll show you all the beauty they possess in side. At which point, you should totally capture that beauty and use it to better your franchise for the stretch run, which is what the White Sox and the Angels should definitely be doing.
The Sox may be finally getting it. With AJ Pierzynski out, they've been forced to turn to 25 year old Tyler Flowers, who has been waiting in Charlotte for three years for this shot. He's making the most of it, hitting .273/.375/.473 in 64 plate apparances, with 2 homers. He's also thrown out 26% of basestealers, a better percentage than either Pierzynski or Ramon Castro could muster this season and is even controlling balls in the dirt well. AJ, who has otherwise done a fine job at the plate this year, may find he doesn't have a job when he gets back from his wrist injury.
Likewise, with Carlos Quentin recovering from a shoulder sprain, Dayan Viciedo has finally debuted for the Sox this year, going 2-for-3 with a homer and three RBI, and helping the Sox sweep the Mariners to take over 2nd place in the AL Central. The Sox have needed a powerful bat to pick up the slack left by Adam Dunn this year. Viciedo would seem to be that guy, and could transition easily into Juan Pierre's spot in LF next year.
As the Sox struggle to claw back in the AL Central, much of the heavy lifting will have to be done by these two youngsters, both of whom are probably better options right now than the players they're replacing.
Meanwhile, the Angels seem to be doing anything possible to destroy their chances of coming back in the AL West. Mike Trout, the 19 year old phenom who, it's told, can cure cancer with just a touch, has hit .389/.450/.778 with 2 homers in 20 plate appearances since being recalled from the minors. While an incredibly small sample size, it's also a hot streak that you'd think Mike Scioscia would want to ride out. Instead, in last night's game against the division leading Rangers, Scioscia started Torii Hunter (who has admittedly been incredibly hot this August, .378/.434/.611) and Vernon Wells (who has not .229/.264/.398). Wells has been a millstone around the Angels' necks all season (he's actually been below replacement value according to rWAR), and he's not one they're going to be able to slough off going forward given his contract status. However, there is literally no reason to play him for the rest of 2011 if Hunter, Trout, Abreu, and Bourjos are all available, especially given the defensive boost he can give in the outfield. Scioscia may not to rock the boat by giving a rookie playing time in favor of the veterans, but it's going to cost him both in the short and long term.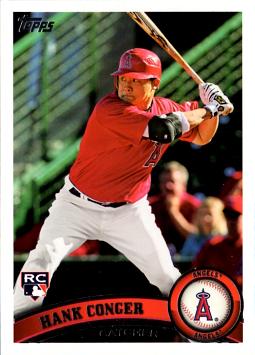 Addressing his most glaring weakness, Scioscia has been true to his word that the pitifully awful Mathis would see his role reduced, yet still he played him against the Rangers on Sunday. Bobby Wilson, who took over the lion's share of the catching duties after Mathis was demoted, has been surprisingly effective, hitting .259/.333/.444 since August 11. But in a game the Angels really had to have, Scioscia went back to Mathis like he was comfort food. Even if Wilson needed a day off, Hank Conger is back on the Angels roster, having received a grand total of 6 plate appearances since being recalled 10 days ago.
Scioscia also sabotaged his team by starting Jeff Mathis yet again with Jered Weaver on the mound. While you'd expect him to turn to Hank Conger in this situation, Conger has actually gotten just 6 plate appearances and one start over the past 10 days. It's a shame how Scioscia buries him, and it will likely be a tragedy when the Angels fall short of the postseason by just a couple games. He seems to have no problems trusting a ninth inning lead to 23 year old Jordan Walden or a rotation spot to 21 year old Tyler Chatwood. But for some reason, Scioscia will not let his best catcher play even a backup role on his team.