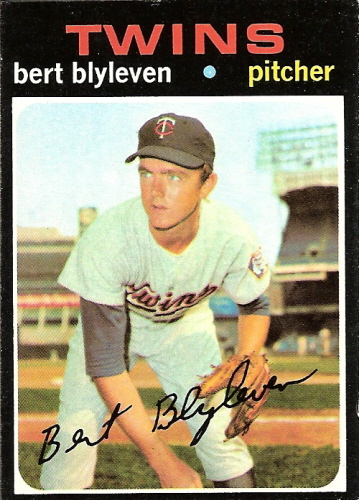 By Bill
Growing up in Shoreview, Minnesota in the late 1980s, my favorite baseball player was Kirby Puckett, but as a lanky lefty who always ended up the first baseman on my little league teams, I
idolized
Kent Hrbek. I wore the number 14 whenever I could. I tried to copy his weird open-stanced swing, with disastrous results. I cheered as Hrbek and the Twins won the World Series in 1987 and 1991 and I thought: some day, if I work
really
hard and get just a little bit lucky...I will have my own sort of public journal on a giant networked web of computers -- a world-wide web log, if you will -- and on that blog, I will discuss three questions facing this very team for the coming season.
And here we are!
1. Who plays up the middle?
In
Francisco Liriano
and
Nick Blackburn
, the Twins have two starting pitchers who depend pretty heavily (Blackburn almost exclusively) on the ground ball. If they bring
Carl Pavano
back, that's one more. They've been rumored to be interested in
Brandon Webb
, who's exactly like Blackburn except a good pitcher (and huge injury risk). Add to that that they're stuck with a pretty terrible defensive outfield and need all the outs from the infield that they can possibly get, and defensive skill at the second base and shortstop positions becomes awfully important, considerably more so than for your average team (and of course it's
always
important).
The Twins have offered arbitration to
Orlando Hudson
, but that's just to get the sandwich pick from his Type-B status; there's almost no chance he's coming back. Their middle infield as it stands right now consists of
Alexi Casilla
at second and
J.J. Hardy
at short. Casilla is a bit of an enigma; with the bat, he has basically the equivalent of one full pretty decent year (with a .316 wOBA in 98 games in 2008 and a .327 in 69 games in 2010) and one unbelievably awful one (.244 in 56 games in 2007, .260 in 80 games in 2009). In the field, though, he's had generally poor ratings by every advanced metric, though he looked average at 2B in most of them in fairly limited time in 2010. From personal observation (to be taken with plenty of salt), he's just never been a competent second baseman; he makes a lot of flashy plays, but only because his reaction time is so slow that he turns routine plays into fantastic ones by not moving his feet soon enough or quickly enough.
Hardy is less problematic. He's nothing like the 25-homer-a-year guy he was in 2007 and 2008, even before accounting for Target Field, but his .268/.320/.394 in 2010 was more than respectable for a shortstop, and his glove has always been world-class. When healthy, he's one of the best shortstops in the American League (arguably
the
best, with Jeter apparently feeling his age). At $7 or $8 million for 2011, he's a great asset for any contending team. Unfortunately, the Twins don't seem to see it that way; there are rumors (corroborated by the likes of Ron Gardenhire) that the team is unhappy with his work ethic and wants a shortstop with more foot speed. There was a lot of talk that the Twins might actually not even tender him a contract, but apparently
they're not that insane
. They still very well might trade him (the return for which, given his underappreciated skill set, is unlikely to be a even a meaningful fraction of his actual value).
And then there's the wildcard: the Twins surprised a lot of people by being the winning bidders for
negotiation rights to Tsuyoshi Nishioka
, a 26 year old who hit .346 with a .423 OBP in Japan last season. He was a shortstop over there, but the rumor is that he'll be a second baseman over here, and that the Twins will almost certainly successfully sign him.
No telling what to expect with Nishioka, of course, though in a still terribly tiny sample, high-average Japanese players have seemed to transition more successfully than power hitters to the American game. Anyway,
he has excellent range
, and if he can hit just a little bit, a middle infield of Nihioka and Hardy seems just about perfect. Casilla and Nishioka, though, less so. Some have speculated that under that arrangement, Nishioka could play second and Casilla short, which seems to me like a recipe for disaster (Casilla playing short, that is, for which I believe he lacks the range, arm and instincts). So the fate of the middle infield is easily the team's biggest question mark right now; it could be one of the major strengths of this team, but there are also a lot of ways they could really screw it up.
2. What's up with that Morneau guy?
Justin Morneau
has become the butt of quite a few jokes around the Twin Cities and elsewhere for missing the last half of 2010 with a concussion, which (the jokes, not the missed time) is just all kinds of ridiculous. TCM has written about this before (most notably
here
), but: concussions are really serious business. If some
other sports organizations
care less about their players and those players' current and future health and lives and want to ride their players into the ground, that doesn't say anything at all about Morneau or the wisdom of keeping him out for so many games for what looked, to our almost uniformly uneducated eyes, like a rather mild collison. We expect a lot of professional athletes, and I suppose we should, but I for one draw the line at knowingly risking serious brain damage.
Anyway, Morneau has to be considered a question mark. He's
feeling hopeful
and expects to be cleared for game action in January, but he's been hopeful before, and one could read between the lines and get the idea that things still aren't quite right. Morneau had his best season last season, even in just half the games, with 5.3 WAR (per FanGraphs), a full win better than 2006, when he was voted the MVP for some reason. He's at least a very, very good hitter, and has probably become the best defensive first baseman in the league. The 2010 Twins didn't miss him
too
much thanks to the second-half performance of
Jim Thome
(who otherwise would've been spending a lot more time on the bench), but they'll need him in 2011.
3. Who pitches?
The current rotation, going by who the Twins have currently under contract or control, is Liriano (who the Twins should sign to an extension before his 19-8, 2.60 ERA, 250-strikeout 2011 season puts him out of their price range),
Scott Baker
, Blackburn,
Kevin Slowey
and
Brian Duensing
. It is not particularly likely that
any
of those back four will be a good full-time pitcher in 2011: Baker and Slowey because they've been injury risks, Blackburn because he's simply not very good, and Duensing because he's still in the "too early to tell" category. There's not a lot of money available, but they won't want their hopes of another division title to hang on those four. Pavano is highly unlikely; after two good years with the Twins and Cleveland, there's almost certainly somebody willing to pay him more money for more years than the Twins will want to. Webb at a reasonable price would be a good gamble, in my mind (
and Nick's
). But whatever it is, they're going to want to add somebody from outside the organization to try to replace Pavano.
And then the bullpen:
Jon Rauch
,
Brian Fuentes
and
Matt Guerrier
were not offered arbitration, and are gone.
Jesse Crain
was
offered arbitration, but after an excellent 2010 that may have convinced some teams that he can be a closer (not that I think they'd be wrong), he's probably a goner, too. They'll bring
Matt Capps
back, and
Jose Mijares
, for better or worse, will still be around, but after that the bullpen is a huge question mark. I'm not a big fan of spending on free agent relievers, and in-house options like
Jeff Manship
and
Anthony Slama
may well fit the bill. But the Twins' pitching is going to look quite different in 2011, and that has to be a bit of a concern right now.