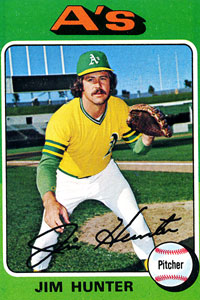 By Bill
I've been away for about ten days, mostly on vacation with the family. Hope everybody had good holidays and such.
It's always a bit hard to get back into the swing, and having to start with the 2011 Oakland Athletics...doesn't make it any easier. (For why, see #3 below.)
The A's finished 81-81 last year. They finished in second place in the weak West, though a full nine games back of the eventual league champion Rangers. They've added a few pretty decent hitters, and the Rangers have lost a key piece or two. Is that enough?
1. Can Brett Anderson stay healthy?
It's not all that often that a pitcher feels like the one real key to a potentially contending team's season, even less often that that pitcher isn't yet 23 and hasn't yet thrown 200 innings in a season or been selected to an All-Star team. But when healthy, Anderson is the real deal. Alone among A's pitchers, he's good at both striking guys out and not walking them, and his ability to keep runs off the board isn't completely at the mercy of the defense (and he gets ground balls and keeps the ball in the park, too). He may have been the best rookie in the AL in 2009 -- his excellent pitching was obscured by his 4.09 ERA and .500 "won-loss record" -- and coming back in 2010, driven mostly by an improved defense behind him and better luck, the results were starting to match the effort. But arm injuries kept him out for most of the late spring and early-mid summer, and he ended with just nineteen starts and 112 innings (but a sparkling 2.80 ERA).
Anderson was healthy and absolutely on fire in September and October, putting up a 2.09 ERA in his final seven starts. That's obviously encouraging, and if he stays healthy he has to be somewhere close to the top of the list of Cy Young candidates for 2011. But again, it's a pitcher with a pitching-arm injury, so you've got to be a bit nervous.
2. Can you win games in the AL West without ever scoring any runs at all?
On the SweetSpot Network's A's blog Baseballin' on a Budget, Dan did an interesting post using
his own projections
for the 2011 team. And while the results seem pretty good -- 85 wins, which sounds totally reasonable given last year's 81 wins and the changes that have been made --
it's worth noting that there are only three players who really project as better than average hitters. That would be new additions
Hideki Matsui
and
Josh Willingham
, and 2010 breakthrough
Daric Barton
, and it's not as though any of these guys are world-beaters. He doesn't have anybody with more than 20 homers, and not a whole lot of doubles, either. Contrary to popular belief, OBP alone
can
score runs, much better than power alone does...but they don't have a ton of
that
, either, once you get past the three named above (and only Barton is a real standout in that area).
This is a better offense than they had in 2010 -- good new additions in the two above and
David DeJesus
, and no one who figures to drop off too much, plus two in
Kurt Suzuki
and
Kevin Kouzmanoff
who figure to do considerably better -- so I'm confident that, yeah, they can win with that offense. But it's pretty awful, and it's kind of hard to see how the team manages to get it done. It would be a lot easier to take them seriously if (in addition to Suzuki and Kouzmanoff coming back) Barton suddenly started showing some power (that's never been part of his game in the majors or minors, but at 6'0", 225 and as a former top prospect at first base, you have to think he has it in him somewhere), but other than that, there's just not much upside here. This team isn't going to score any runs, and they're going to be at least okay anyway.
3. Seriously, has there ever been a more boring pretty good team, ever?
The funny thing about this is that in the old
Moneyball
days, people would complain about how boring the A's were. They hit for low averages and plodded around, and just walked a lot and hit home runs and pitched brilliantly (in front of mostly terrible defenses) and won baseball games. But can you really tell me that those teams were more boring than this one? They're still going to hit for low averages, and they're still going to depend on the walk (they just won't do it as well as they used to). They'll steal some bases and play good defense, which the other guys didn't. But they'll hit almost no homers, and their pitchers, behind Anderson and in front of
Andrew Bailey
, are really just mediocre-to-pretty-good throwers who simply let the other team put the ball in play, figuring the ballpark will keep it in and the defense will get an out out of it. Maybe it's just me, but I'd much rather watch two walks and a three-run homer, backed by good pitching, than a walk and two singles backed by okay pitching and good defense. If you're not already a fan, it's just kind of hard to watch.
I don't mean to insult the A's. I generally like and root for the team. Huge Billy Beane fan. And I think they've got a pretty decent chance at winning the division (you've still got to favor the Rangers, but they're not
that
far apart). And there are some fun things about this team. There's Anderson, and it's not like good defense isn't fun to watch in its own way, and then the five or six times
Adam Rosales
goes deep this year might be the five or six most enthralling moments of the season (seriously,
check out #3
). And I'd think most people would rather watch them play than the Pirates or Royals. But for a team that's likely to win something between 80 and 90 games this season, by and large, this is a
really
dull squad.
Mark Ellis
and
Cliff Pennington
might be the best middle infield combo in the league, but that's not going to make anybody really want to watch them. Right?