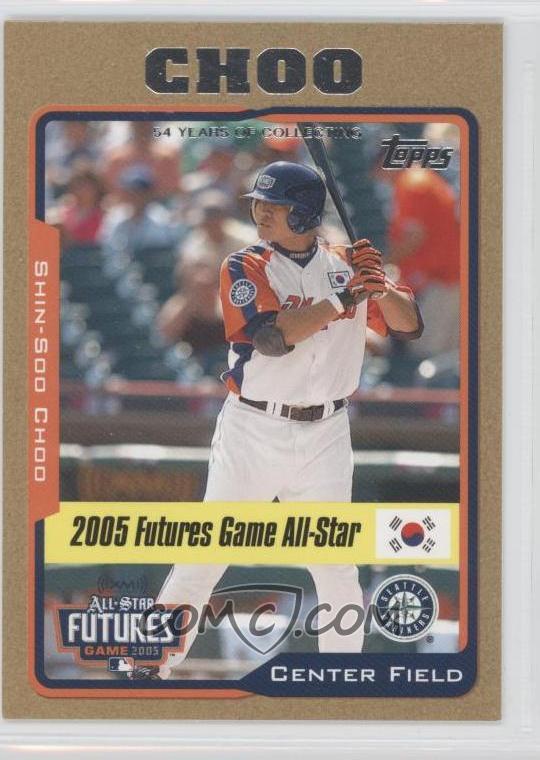 The Common Man is away on vacation, and I'm swamped at work. Luckily, we've got a guest all lined up for you: Jonathan Mitchell writes all kinds of smart baseball stats-y things at Figure Filbert, and you can follow him on Twitter. Here he writes about one of my favorite players [editor's note: I don't think I underrate him at all, I just still think people underrate Utley that much]. Enjoy!
I love underrated players. They not only make me look good when fantasy baseball rolls around but they make for good topics of discussion.
Shin-Soo Choo
is a player that is often considered underrated, if not completely overlooked. Heck, there are probably some people that think he still plays in Seattle or in Korea. Choo's name only comes up in discussions of underrated players, fantasy baseball drafts, and when the World Baseball Classic is being played. Nobody seems to ever mention Choo in the conversation of best players in the game, but I do.
Here at The Platoon Advantage, Bill mentioned Choo as the 2nd most underrated player behind
Chase Utley
. While I agree that Utley, in all of his greatness, is still actually a bit underrated, I think Bill is still underrating Choo. Calling Choo simply underrated is a complete understatement.
Choo did not get a real shot at playing time until 2008 when he totaled all of 370 plate appearances, a career high for Choo at the time, and posted a 2.9 fWAR and 2.8 rWAR. He has improved every season since. Since becoming a full-time player in 2009, he has been one of the best position players in the entire league. That's right, one of the best. You heard me. I'll prove it to you.
Over the past two seasons Choo has been worth 10.6 fWAR ranking him 2nd among all right fielders, 4th among all outfielders, and 16th among all position players. Even more impressive is that Choo has been worth 13.5 rWAR in that same span, ranking him tied for 3rd overall and first among all outfielders by 2.5 rWAR.
Choo also joined
Hanley Ramirez
as the only players to have 20/20 seasons in each of the past two years and led all Major League outfielders in assists and Total Zone Runs in 2010.
Going back to his partial season in 2008 he has hit .302/.397/.500 with an OPS+ of 144. Only 3 other players with at least 1700 plate appearances over that same span can make that claim. Those three players are
Albert Pujols
,
Joe Mauer
, and
Joey Votto
, all MVP winners. Just missing the cut are
Josh Hamilton
(won the MVP in 2010),
Matt Holliday
(finished 2nd in 2007), and
Kevin Youkilis
(finished 3rd in 2008). Choo had his best finish last year, when he finished only 14th in MVP voting and only trailed
Evan Longoria
in rWAR among all players.
That puts Choo in some elite company. Of the six players that have had similar numbers to Choo, four of them won an MVP and the other two finshed in the top three. What does this mean for Choo going forward? I believe this means Shin-Soo Choo will be a top-5 MVP in 2011.
I love making predictions. More than just making predictions, I love making bold predictions. Claiming that Shin-Soo Choo will be a top-5 MVP candidate in the American League may be considered bold and off-the-cuff, but Choo actually is that good, you just did not realize it yet.