by Jason Wojciechowski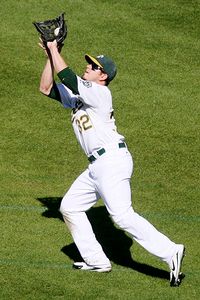 The Astros signed Jack Cust. This makes me sad, on the one hand, because I still have a dream that Cust will hit a Game 7 9th inning homer to propel the A's to their first World Series win since 1989. He's a folk hero in my house, see, the subject of my only "shirsey" (a Christmas gift from my wife, and arguably the best thing she's ever given me ... uh, aside from her hand in marriage, of course). I love his patience, I love his ridiculous upper-cut swing (so Stairsian, another player who stars on a t-shirt I own), I love his rotundity. Most of all, though, I love his defense.
I promise I'm not being contrary for the sake of it. It was a genuine delight for me to watch him try so hard in the outfield, stumbling around, making throws like he really meant it, just doing his damndest to look like an athlete when the whole world knew that he wasn't -- he's a hitter, dammit, and the DH position was invented for him. It was adorable, frankly.
Over 1725 innings in the outfield in his career (context: 162 * 9 = 1458), Total Zone (at Baseball-Reference) says that Cust was worth 29 runs below average. Pro-rating that to a season gets you -20 runs. Negative twenty! That's a lot!
But you know who else is on the Astros? And who, if the team shakes out the way I'd love it to, with Brett Wallace at first base and no DH in this, the Astros' final year (until Bud Selig changes his mind) in the National League? Carlos Lee, of course. Carlos Lee whose Total Zone figures in left field from 2006 to present day look like this: -28, -4, -9 (truncated season), -14, -20, +13 (half season). Let's throw out that +13, because what? And because it's not very funny to consider a Cust-Lee outfield if Lee is a +20 defender. And because c'mon.
So based on my selective sampling and picking and choosing and using a stat basically because it's on a site that's really easy to use and doing all sorts of things you're just not supposed to do, let's say that Cust is -20 over the course of the season in right and Lee, who's been forced into left by Brett Wallace's 15-homer spring training bomb show, is also -20. Even if this isn't their true talent, it's probably the case that we can easily believe that both could put up a -20 season by Total Zone if given the full opportunity.
Going by hand through the Baseball-Reference database, since apparently fielding isn't part of the Play Index stuff (yet?), here are all the outfields in the last 30 years with two -15 defenders in them (relaxing the standards for reasons that will become apparent):
2007 Pittsburgh Pirates, Xavier Nady -18, Jason Bay -18
2007 St. Louis Cardinals, Chris Duncan -17, Juan Encarnacion -16 (in just a half season each!)
2005 Boston Red Sox, Johnny Damon -23, Manny Ramirez -18 (Boston caveat?)
2003 New York Yankees, Bernie Williams -15, Hideki Matsui -19
2000 Cleveland Indians, Manny Ramirez -18, Wil Cordero -17 (but Cordero was traded to Cleveland mid-year; the -17 is his total for the season)
1999 Oakland Athletics, Ben Grieve -19, Matt Stairs -25
1999 Colorado Rockies, Dante Bichette -34 (!), Brian McRae -24 (McRae didn't play the full year with the Rockies)
1999 New York Mets, Rickey Henderson -15, Brian McRae -24 (McRae didn't play the full year with the Mets -- awesome)
1998 Minnesota Twins, Marty Cordova -15, Otis Nixon -20
1998 San Diego Padres, Steve Finley -17, Tony Gwynn -17
1997 San Diego Padres, Steve Finley -18, Tony Gwynn -15
1997 Oakland Athletics, Matt Stairs -15, Geronimo Berroa -18 (Berroa didn't play the full year with Oakland)
1997 Pittsburgh Pirates, Jermaine Allensworth -18, Jose Guillen -28
1995 San Diego Padres, Steve Finley -20, Tony Gwynn -18
1993 Minnesota Twins, Pedro Munoz -16, Kirby Puckett -29
1991 New York Yankees, Hensley Meulens -15, Mel Hall -21
1990 Chicago Cubs, Andre Dawson -17, Jerome Walton -18
1989 San Diego Padres, Marvell Wynne -20, Chris James -21, Tony Gwynn -23 (Wynne went from the Padres at the end of August; James came to the team at the beginning of June) ((holy cow))
Lessons? Here's a lesson: either Total Zone hates San Diego or San Diego really couldn't give two flying figs about outfield defense in the Tony Gwynn heyday.
Actually, one of things that strikes me is how many center-fielders are on the list. The only seasons with two corner outfielders are the Bay/Nady Pirates, the Encarnacion/Duncan Cardinals, the Cordero/Manny Indians, the Grieve/Stairs A's, the Stairs/Berroa A's, and the Meulens/Hall Yankees. Having a guy who'd be fine in a corner miscast in center strikes me as a whole different ballgame than playing two actual poor defensive players (since that's what it takes to be this bad in a corner) on the field at the same time.
Anyway, of that reduced list of two-corner teams, the closest to a true -20/-20 corner outfield situation was the 1999 A's, with Matt Stairs motoring around right as fast as his little hamster legs could carry him, Ben Grieve playing the part of the sculpted piece of marble in left, and a pitching staff that wisely featured guys like Omar Olivares, Kenny Rogers, Tim Hudson, and Gil Heredia.
None of this is analysis, and Total Zone relies on batted-ball-type data at its peril, but still, there's a real opportunity for Houston here: they could field a historically bad defensive outfield if they let Brett Wallace and Jack Cust play over J.D. Martinez and Brian Bogusevic. Who wouldn't want to see this happen?