By Bill
And so here we are, at the end of our epic, week-long, five-part series in which we try to guess at the BBWAA voting results for the next 25 years. And this is the part in which you really see exactly how hard this is, because things completely stop making sense. But it sure is fun!
For the rules, such as they are, check out Part 1
here
. And here is
part 2
,
part 3
, and
part 4
. And here's
our series wrap-up
. And away we go!
2032
Bill: Evan Longoria
,
Buster Posey
The Common Man:
Posey,
David Wright
I've got big plans for Longoria. When you've had less than three full seasons in the league, though, and averaged over 6 WAR per full season, all before turning 25, I think you can handle it. I see him going first ballot, after a phenomenal 19-year career, and he and Mike Schmidt ending up in one order or the other as the top two third basemen in history.
It's kind of uncanny that TCM and I both picked Posey here. And it's crazy to actually expect a guy with less than a full season under his belt to make the Hall.
Bill James
never picked anyone quite this early. It just feels like he's headed that way, though. And we need more catchers in the Hall.
TCM says:
TCM is not as confident as Bill seems to be on Posey. He's already 24, and his plate discipline last year was somewhat lacking. It really seems that we are intent on correcting the problem of too few 3B in the Hall, doesn't it?
2033
Bill: Jay Bruce
,
Felix Hernandez
TCM: David Price
,
Stephen Strasburg
Bruce. Believe it. Maybe I should have picked
Justin Upton
-- who doesn't make either of our lists, anywhere -- but they're similarly talented, and right now, Bruce seems to be the one who's trending in the right direction. He's a very good right fielder, he's got 68 homers before turning 24, and he's taken a significant step forward in each of his three seasons so far. I like his chances.
Anything can happen with pitchers, but Felix feels like the closest to a sure-thing Hall of Famer that a young pitcher could possibly be. 74 wins, over a thousand innings and strikeouts, a Cy Young Award and a second-place finish, and he'll make at least one start in 2011 before turning 25. He retires in 2027 -- age 41 -- with well over 300 wins, well over 3000 strikeouts, and at least two more Cy Youngs.
You could project a somewhat similar career for Price...but I haven't. Luck of the draw. Strasburg can only have had about 16 seasons by this point, so it's a bit tough for me to see him going in here, but I do pick him only two years down, so I can't make too much fun.
TCM says:
Yeah, TCM thinks Strasburg's career will be (relatively) brief and brilliant before a series of catastrophic arm injuries bring him down. Like a much-taller Pedro. But until then, we'll all marvel at him. Price, on the other hand, looks like a horse.
2034
Bill: Troy Tulowitzki
,
Chase Utley
.
TCM: Mike Stanton
,
Tommy Hanson
Tulo, at 25, is well on his way, with three seasons already of near or above 6 WAR. I kind of suspect (and let's be honest, it's all just a guess at this point) that he has a very high peak, but very short career for a Hall of Famer -- kind of like Roberto Alomar -- and that between that and lingering concerns about the Coors effect, it takes him a few years to get in. Utley's been underappreciated for his whole career, so it's only fitting that he'd have to wait until age 55 to get in. (He's also going to have a
really
hard time, having started so late, piling up the kind of numbers voters associate with the Hall, but I choose to be optimistic.)
TCM is a lot more bullish on the
really
young guys than I am, obviously. Stanton would have to be pretty overwhelmingly great to go here -- this has him retiring no later than age 38. But with well over 500 homers and an MVP award or two, it's certainly possible. Picking Hanson at this point is a bit much for me. Then again...
TCM Says:
Not sure why you're so reluctant on Hanson. Dude is big and strong, has shown good durability, and has 21 wins before he turns 24. He's on the Roy Halladay career path. Then again, if TCM put money down on all the young pitchers he was sure were going to make it big, he'd be a poor man. He's also probably headed to the poorhouse for thinking that Stanton will get his strikeout problems under control.
The only thing that could get in the way of Tulowitzki is his inability to stay healthy. If he can stay on the field, he'll be fine.
2035
Bill:
Jayson Heyward, Strasburg
TCM:
Heyward, Felix
I guess I can't get over watching Strasburg when he was healthy last summer. He's thrown 68 innings in his entire career, and a year from now, most likely, he'll
still
have thrown 68 innings in his career. But he just
looked
like a Hall of Famer. I can't say I honestly think it's going to happen, but I hope it does.
Heyward, on the other hand, has the look of a Hall of Famer
and
has substantially less risk than Strasburg or any pitcher faces. I gush quite a bit about Heyward
here
. I expect him (as I suggested in that link) to have a much better career than Posey, but to last a lot longer, and thus to go into the Hall later.
TCM says:
Yeah, Heyward's a beast, and for all the flack he took for supposedly being injury prone last year, he played 142 total games and got 623 plate appearances. He's shown an ability to gut through aches and pains. He's pretty damn impressive.
TCM thinks Felix gets in on his first ballot, by the way, he just thinks he'll also pitch forever.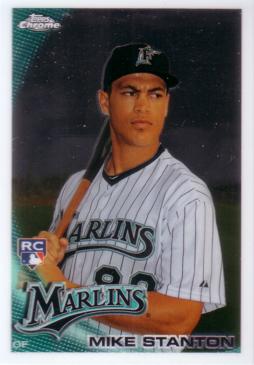 2036
Bill: Ryan Braun
, Stanton
TCM: Mike Trout
,
Clayton Kershaw
Braun seems to have plateaued a bit, but he's a pretty great hitter as he is, and he's off to a pretty good start, and walks rarely enough, that he could well top 3,000 hits and/or 500 homers. This, to my mind, would be his fourth ballot or so. Seems reasonable.
And I have Stanton here, two years later than TCM does. Either he plays longer and puts up impressive enough counting numbers that he gets in, or he plays only as long as TCM expects and it takes him a few tries to get in despite his power numbers, much like Harmon Killebrew. Either way.
Trout? Come on, TCM. I mean, come
on.
That's all I have to say about that.
TCM Says:
Oh yeah, The Common Man is totally dreaming on Trout. This could end up looking very ridiculous. But it could also look very prescient, and TCM needed to get him in before the list wrapped up. Kershaw's yet another pitcher TCM is betting on that's likely to blow out his arm in the next couple years and make him look stupid.
-------------------------------------
I'll be back on (probably) Monday to wrap up this series and give you everything in a nice neat chart. Good times.