By Bill
Two Fridays ago, The Common Man came up with this
awesome new weekly feature
.
Last Friday, I forgot about it.
Won't happen again.
Anyway, the nice thing about a
Random
Minor Leaguer of the Week is that there's certainly no requirement that it be a
good
minor leaguer of the week, or even someone that you're ever likely to see take the field in the majors. So my first RMLotW is not R at all; it's my very favorite minor leaguer, 25 year old New Britain Rock Cats infielder
Chris Cates
.
At just 5'3" -- that's right, 63 inches, two inches shorter than
an average Caucasian American woman
-- Cates is the shortest player in professional baseball and, one imagines, the shortest player professional baseball has seen in quite some time. Watching Cates play, one gets the sense he's watching the world's most competent Babe Ruth Leaguer taking on giants. His motions look sped up somehow, because it seems unnatural for something that small to be moving as fast as everything else on the field moves. Cates is exactly like an overly exaggerated caricature of David Eckstein.
I certainly don't say any of this to make fun of Cates. I say this because I thnk it's all
true
, and because I think it's all
awesome
. Think of all the hundreds or thousands of college and high school kids each year who are phenomenal athletes, more or less perfect exemplars of the male human form, who want nothing more than to play one of the four major professional sports. And the vast majority of them fail utterly. Cates, meanwhile -- while there is absolutely no doubt that he's in excellent physical condition -- looks like the
starting-Mario
to those other guys'
post-mushroom Mario
, and he's into his fourth year as an American professional baseball player.
Here's what Chris Cates looks like standing next to his teammate and the
tallest
player in pro ball, Loek van Mil (7'1"), courtesy of MLN SportsZone Magazine: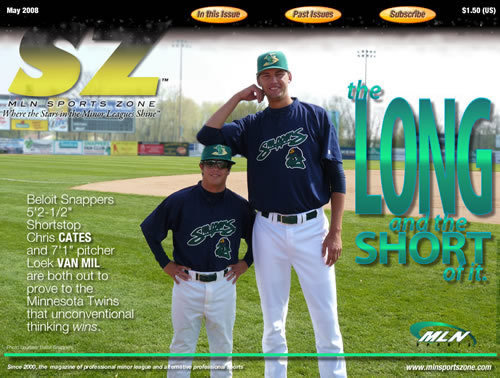 Here's what Cates looks like being carried like a football, by 6'2", 224 Rene Leveret (photo by Jim Crikket for this
Minneapolis Star Tribune blog post
):
And here's an interview with and about Cates from his college days:
Unfortunately, Cates has probably gone about as furr as he can go. He's gotten 406 plate appearances between High-A Fort Myers and AA New Britain, and is hitting an astoundingly poor .195/.251/.209. He has just five extra base hits all year (all doubles) and -- perhaps unsurprisingly -- hasn't hit a home run in his entire near-1500-PA career. The Twins supposedly really like his defense, but the specialest defensive specialist in the world wouldn't be remotely playable with that kind of hitting non-ability. Heck, even Matt Tolbert has a .744 minor league OPS, nearly two hundred points above Cates'. (Though it's worth noting that his OBP is two points higher -- and SLG isn't
that
much lower -- than current Twins backup catcher Drew Butera. So you never know.)
But whatever happens, if you get a chance to see him, you should. You'll be a little happier than you were before. It looks a little bit like this: