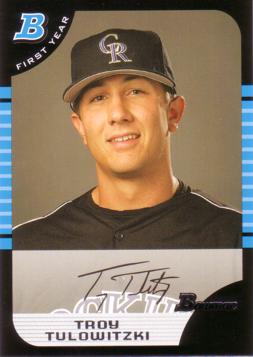 By Bill
Earlier today (and last week), The Common Man
put up a post
explaining more fully the pithy comments he made for the three AL teams not represented by other SweetSpot bloggers for
this week's power rankings
.
Well, I wrote the comments for the four unspoken-for NL teams -- the Marlins, Pirates, Diamondbacks and Rockies -- and I'm not going to be doing that. I don't think I have all that much to say about one week for each of these teams (especially since I'll be finding something to say about them again two weeks from now). But if I have something worth saying, I'll say it here.
Today I do want to talk about the Rockies. We write these comments but don't vote on the rankings, so I didn't know (though perhaps it's not surprising given their 14-7 overall record) that the Rox, after a 2-4 week in which they lost series to both the Giants and Marlins, would drop from the #1 spot on the list only down to #3. While my final takeaway in the comment was that "they're in good shape," I don't think they're in
number three in baseball
shape, and there's a good chance they're headed toward something more like 12 or 13. Here's why.
First, their offense depends heavily on one player who isn't going to keep up his current pace, and probably isn't as good as it's looked. Troy Tulowitzki is amazing, but probably won't finish the year hitting .330, OBPing .430 or slugging over .700. They're also getting better-than-expected contributions from Todd Helton and second baseman Jonathan Herrera. On the other hand, last year's triple crown candidate Carlos Gonzalez has been awful, at .228/.284/.304. He'll almost certainly get better, but I don't think he's anywhere near the player he looked like last season, and I'd expect the falloffs from those other three to exceed the gain in CarGo's production.
Either way, though, the Rockies' offense still isn't that great. They've scored the third most runs in the National League, but the team's wRC+ is just 90, OPS+ just 86; they play in what is still the most hitter-friendly park in baseball, and they might also be benefiting from some of those famous "timely hits" that they can't expect will continue to fall at just the right times.
I'd be even a bit more concerned about the pitching. It's been legitimately good -- fourth in the NL in both FIP and xFIP -- even with ace Ubaldo Jimenez getting knocked around to the tune of a 6.75 ERA and 5.61 FIP through his first four starts. Can it last, though? Jorge de la Rosa has never been nearly as good in the majors as he has been so far in '11. Jhoulys Chacin entered 2011 as a very promising starter, but had been getting it done in the majors with K rates above 9; so far this season, his strikeout rate is just 6.00 per nine, but he's walking fewer and coaxing more grounders than he ever has before. It might just be a flukish four starts, and if the strikeouts don't come back, he could be in some trouble. Jason Hammel and Esmil Rogers probably just aren't very good. Obviously, getting Jimenez back to his 2010 form would be a total game-changer here. So far, he's striking out fewer and allowing more fly balls (and many, many more home runs) this year than last, which by itself sounds fixable, but then you notice that his average fastball velocity is
down more than four miles an hour
from last year.
Again, I think this is a good team, all in all. But Rockies fans just shouldn't get too comfortable in that #3 slot.