As he did last week, The Common Man wants to expand on his comments in ESPN's Power Rankings
that came out today
. This week, TCM provided the blurbs for the three AL teams unrepresented in the SweetSpot Network, the
White Sox, Indians, and Angels
.
Chicago White Sox (22): The Sox have lost 9 of 10 and have to be wondering what they have in new acquisition Adam Dunn, who has a 66 OPS+, just two homers, and is even striking out more than usual.
Of course, small sample size warnings apply here, but there's still some reason to be worried about Adam Dunn. He's hitting .145/.288/.291 and, unlike say Mark Teixeira, has no history of being a slow starter. Part of the problem is an absurdly low, even for a flyball hitter like Dunn, .207 BABIP, which will undoubtedly improve. However, his strikeout rate, at 36.4% is at the highest its ever been and his infield popup rate is an incredible 22%. Some of the problem is probably adjusting to the designated hitter spot; some of it may be adjusting to a tougher league (although the difference between the AL and NL has likely shrunk somewhat over the last couple years), and some of it is luck. But TCM looks at the K-rate and his inability to make solid contact and wonders whether The Big Donkey needs to be put down.
Cleveland Indians (6):
The Indians are still in first place in the AL Central, despite a disappointing weekend in Minnesota. But Tribe fans have to be excited about the triumphant return of Grady Sizemore, .391/.440/.783 in his first 25 plate appearances.
Again, small sample size caveats apply, but it's hard not be incredibly glad for the triumphant return of Grady Sizemore, who from 2005-2008 was one of the best centerfielders in baseball. With the surgery on his knee, it may be smart for the Indians to continue using Michael Brantley in centerfield until concerns about Sizemore's range are alleviated, while pushing Sizemore to LF. Brantley has had a terrific start to the 2011 season from both an offensive (.293/.379/.360, 118 OPS+) and defensive perspective, and combined with Shin-Soo Choo in RF, the Indians could suddenly boast one of the strongest all-around outfields in the American League.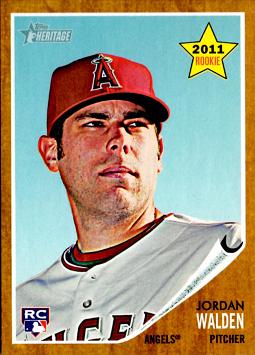 Los Angeles Angels (7):
Lost in the tremendous starts by Jared Weaver and Dan Haren (combined 9-1 with a 1.34 ERA and 72 Ks in 73.2 innings) is the impressive start by Jordan Walden, who has given up zero runs and just three hits in his first 10 appearances. This kid looks crazy good.
Weaver and Haren deserve the lion's share of the plaudits for the Angels, especially since they've combined to win 75% of the team's games. But Jordan Walden is also shining at the back end of the Angels bullpen, striking out 10 batters in 9.1 innings, saving three games, and not allowing anybody to score while he's on the mound, even runners he inherits. In the first 26 appearances of his career, he's got a 1.46 ERA, and 33 strikeouts in 24.2 innings, featuring a high-90s fastball that has been lights out in 2011. He's still got some work to go with his control, as he's allowed more than four walks per nine innings in his career, which will become more important as his BABIP (currently an unsustainable .136) rises. Still, he's a very exciting young pitcher, and well worth watching.