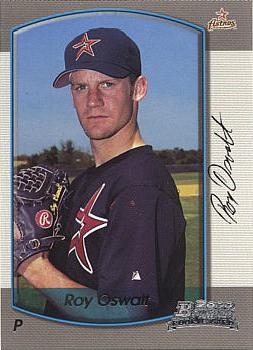 Lots more interesting stuff happened this week ten years ago. Lots of homers, lots of runs, a couple milestones, a couple records. Enjoy!
Monday, May 14:
And I thought Mondays were boring
now
. There are only three games on this one (and not for the first time). But there's at least one interesting thing: a young relief pitcher named Roy Oswalt, making his third career appearance, picks up his first career win, going 3.2 innings (1 hit, 4 strikeouts) as the Astros score three in the seventh to come back and beat the Reds,
6-4
.
Tuesday, May 15:
Javier Vazquez throws a two-hit shutout for the Expos at home (2 hits, no walks, 9 strikeouts), beating Chan Ho Park and the Dodgers
2-0
. In Toronto's
9-3 win
over the Angels, Carlos Delgado hits homers 15 and 16; it's already his fifth multi-homer game of the year.
Wednesday, May 16:
It's a full slate of games, and it's the first time all month that no team scores at least ten runs. Sammy Sosa hits his 400th home run
in the Cubs' loss to Houston
; Rickey Henderson hits his 79th career lead-off home run in the
Padres' win over the Mets
, extending his major league record.
Thursday, May 17:
Luis Gonzalez hits two home runs in the Diamondbacks'
7-2 win over the Reds
. They're homers 19 and 20 for him, making him the new fastest to 20 homers (he did it in his 40th game; in 1998, Mark McGwire had done it in 41). The Mariners win their 8th game in a row,
5-1 over the White Sox
, to improve to 31-9. Ichiro Suzuki goes 3-for-5 with two stolen bases and a run scored.
Friday, May 18:
The Tigers absolutely crush the Devil Rays,
18-2
. They scored runs in only three different innings -- three in the first, nine in the fifth, and six in the eighth -- and only one home run, from Juan Encarnacion.
Saturday, May 19:
Sorry, two big blowouts in a row. The Padres beat the Expos,
20-7
, in Montreal. They score in every inning except the 4th, and score at least 3 runs each in the 5th, 6th, 8th and 9th. Mark Kotsay goes 4-for-7 with two doubles, a homer, three runs and four RBI. Oh, and remember how Gonzalez set the fastest-to-20-homers record a couple days ago? Bonds breaks it here, hitting his 18th, 19th and 20th in his 39th game, a
6-3 win over the Braves
.
Sunday, May 20:
Barry Bonds again! He hits two more homers, giving him five in the last five games, seven in the last four games, and 22 in his first 40 games. The Giants
lose to the Braves anyway
.