By The Common Man
Once again,
ESPN's Power Rankings
are up, and The Common Man contributed the comments for the four NL clubs that are not currently covered in the SweetSpot Network. And as before, TCM wants to expand on the comments he provided for each club, the
Rockies, Marlins, Pirates, and Diamondbacks
: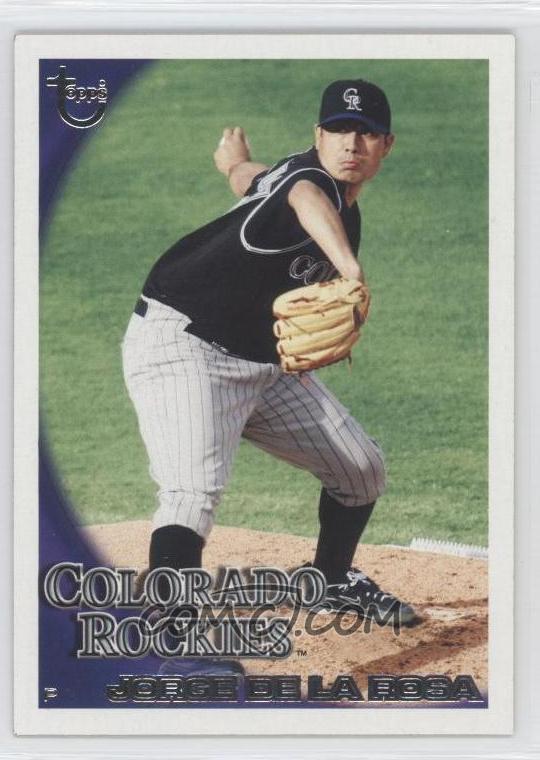 Colorado Rockies (4):
(
Note: TCM's Rockies comments didn't run because of our new colleague, Logan Burdine, of
Blake Street Bulletin
making his debut
) TCM has to eat some major crow on Jorge de la Rosa, who he figured was a bad risk for the Rox. But de la Rosa has been excellent, going 4-0 with a 2.61 ERA and 29 Ks in 31 IP.
This offseason,
The Common Man wrote
that he,
"still has significant questions about the Rox rotation. For one thing, De La Rosa is, by no means, a sure bet. Keith Law likes him a lot, but that doesn't change the fact that De La Rosa has a 5.02 career ERA (92 ERA+), is coming off an injury shortened season, and walks more than 4 batters a game. Another lefty, in 2009, was one of the most sought after free agents on the market, with a better career ERA+, and now the Mets are running out of ways to hide his horrible pitching. While promising, De La Rosa still essentially needs to prove himself, and paying him in excess of $10 million a year to do so is a very risky move."
TCM's definitely got to own this one, as de la Rosa has been fantastic. He continues to induce grounders and strike out batters at impressive clips, and his curveball has become an above-average weapon for him. He's been a godsend as Ubaldo Jimenez has scuffled at the start of 2011. If de la Rosa's able to stay healthy for the next three years, he looks like an excellent bet to be worth the $30 million the Rockies are going to pay him.
That said, he's probably not reached a new level of performance. His numbers are greatly helped by an unsustainable .224 BABIP against him, and an unrealistic 3.1% HR/FB ratio (his career mark is 11.3%). He'll come back down somewhat, but remain an excellent pitcher on a strong contender.
Florida Marlins:
Jared who? Josh Johnson has a 0.88 ERA in 41 innings while striking out 39 and giving up just 18 hits. The nastiest pitcher in the Big Leagues.
Josh Johnson is incredibly good, and riding a very hot streak. To put it in some context, Johnson's 0.88 is very comparable to Ubaldo Jimenez's big start in 2010, when he went 6-0 with a 0.87 ERA for the Rockies. The only reason Jimenez (and Jeff Weaver this year) have received more attentionfor their efforts is because of their win totals. Meanwhile, Johnson is just 3-0 thanks to some bad luck and bad bullpen work. Since the start of 2010, Johnson is 14-6 with a 2.04 ERA and 225 strikeouts in 224.2 innings. He's on another plane of existence right now. If TCM had to pick one pitcher in the league to win one game, he'd go with Roy Halladay, but Josh Johnson would be a very very close second choice.
Pittsburgh Pirates:
The Pirates are going to try and solve the riddle of Brandon Wood, who is vying for the title of worst hitter in baseball history with his 23 OPS+. Best of luck.
Since 1901, here is a list of all the non-pitchers who have gotten more than 500 plate appearances and have an OPS+ below 30 (via
Baseball Reference's Play Index
):
| | | | | |
| --- | --- | --- | --- | --- |
| Name | BA | OBP | SLG | OPS+ |
| John Vukuvich | .161 | .203 | .222 | 20 |
| Bill Bergen | .170 | .194 | .201 | 21 |
| Brandon Wood | .170 | .201 | .260 | 23 |
That's it. Three guys. Given his lead in plate appearances, it's tempting to just give the award to Bergen on principal, but given that Wood has both equipment and conditioning on his side, along with 100 years of advancement in baseball instruction, TCM's inclined to say that Wood's closing in on the award. He'll have a hard time getting past Vukovich, who had an OPS+ of 12 from 1971-1973 in 374 PAs, but if anyone can do it…
Still, given their only other viable SS right now is Ronny Cedeno, this is a decent risk by the Pirates, who will be out nothing if Wood can't figure anything out.

Arizona Diamondbacks:
"I say this as a frustrated fantasy owner, don't be worried about Kelly Johnson (.180/.255/.320). His .227 BABIP will right itself soon enough."
There's just not much to see here. Johnson came back strong last year from a down 2009 that was exacerbated bya .247 BABIP. Similarly, his BABIP is the trouble this year as well, along with a slight uptick in strikeouts. But this is mostly a luck issue.
If you want someone to be worried about, check out Joe Saunders, whose velocity has slipped, has developed a sudden inability to find the strike zone, and who has been absolutely mauled in three of his six starts so far.