By The Common Man
It's
Power Rankings day again
, so The Common Man is back to expand upon his thoughts within the rankings, this week on three AL teams, the
Angels, White Sox, and Orioles
.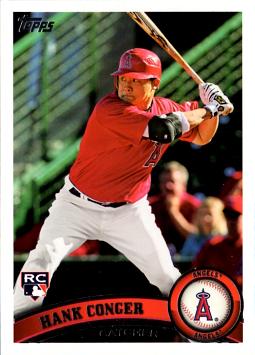 Los Angeles Angels
: "Hank Conger is 23 and hitting .286/.344/.500; Jeff Mathis is 28 and hitting .200/.221/.308. They have started the exact same number of games this month. I know Mike Scioscia is loyal to his guys, but there has to be a limit, right?"
Often, only getting two sentences to talk about something is completely insufficient, especially when you would like one of those sentences to be a long string of profanities illustrating how angry you are about something. Hank Conger is a much, much, much better player than Jeff Mathis, and after going 2-4 last night off of Fausto Carmona and the Indians, that difference is even more pronounced.
Supporters of Mathis and Scioscia, if there are any left, would likely point to Mathis' allegedly superior defense and game-calling skills, but that impression is simply not accurate. Runners have stolen on Mathis and Conger at almost the exact same rate, with Mathis throwing out 5 of 22 attempts, while Conger has thrown out 5 of 21. Meanwhile, Mathis has allowed four more wild pitches and passed balls in only 10 more innings of defensive work. And even the largely discredited catchers' ERA doesn't help Mathis, as teams have scored roughly four runs per game that he's caught, while they've only scored 3.25 off of Conger, while Mathis has been allowed to catch the Angels' aces Weaver and Haren 11 times to Conger's 4.
There is, then, literally nothing that Conger has done on the baseball field in 2011 that he has not done better or just as well as Jeff Mathis. Given that he's clearly the catcher of the future, God only knows why Mike Scioscia won't just give him the job and let him play. If the Angels end up losing the AL West by a slim margin, the manager's handling of the catcher position will be high on the list of reasons why.
Chicago White Sox:
"Lost in a terrible start to 2011 for the Sox has been the excellent work turned in by Philip Humber (previously known as "we traded Johan Santana for who?"), who has a 2.97 ERA through almost 40 innings. This looks like another feather in pitching coach Don Cooper's cap."
Keith Law has mentioned in his recent Baseball Today Podcast appearances how much he reveres Don Cooper as one of the 2-3 best pitching coaches in the game, and particular lauded his ability to help guys like John Danks and Gavin Floyd find another weapon in their arsenal. Fangraphs makes it look like, in Humber's case, this pitch is a slider, which has proven incredibly effective as an alternative to Humber's changeup and relatively pedestrian fastball.
Now, Humber's not this good. He's got a .202 BABIP that will come up significantly. And his HR/9 will rise quickly as the weather warms up and all the fly balls he tends to allow start traveling further. But in the meantime, the White Sox should probably consider keeping him in the rotation after Jake Peavy comes back from injury, and bumping Edwin Jackson back into the bullpen. There's not a lot to be happy about on the South Side this year, but at least Humber's success is a reminder that, no matter how bad things get, the Sox will have Don Cooper.
And TCM is happy for Humber himself, despite the fact that he never did anything to justify the Twins giving up Johan Santana for him and three other guys.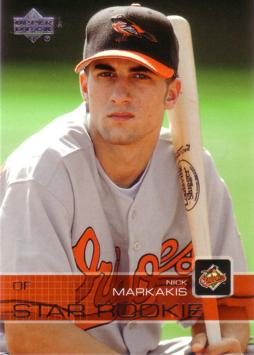 Baltimore Orioles:
"The O's seem to have found their level. Of particular concern is Nick Markakis, who is hitting .234/.291/.328 and is owed at least $44 million between 2012-2014. If this keeps up, the O's will struggle to build a contender around that albatross of a contract."
The Orioles have been bad, going 8-18 since their big 6-1 start. The pitching is bad, especially in the bullpen, which has a 5.62 ERA and allowed the third highest percentage of inherited runners to score in the American League.
But the hitting has been just as bad. The club sports an OBP of .300, and only Matt Wieters, Robert Andino, and Luke Scott have an OPS+ of over 100. And Scott's numbers look suspicious; until someone verifies them, they don't count. None of these starts is as frightening as Nick Markakis, however, given that the O's still are going to have to pay him for another three seasons after this one is over.
Markakis has seen his strikeout rate fall, but so has his walk rate, to a career low 6.2%, such that his K/BB ratio is actually worse than his career norms. He's getting killed by BABIP, which is .233, which would be the lowest mark of his career by more than .80 points. Some of that is undoubtedly bad luck, but some of it also has to be because he's hitting more balls in the air than ever before, and those balls are not traveling as far. His HR/FB has fallen to just 4.6% since the start of 2010, so more and more of his flies are getting caught by patrolling outfielders.
The O's have to be worried. Nick Markakis has gone from a patient hitter with good line-drive power to a contact-oriented batter who simply is not hitting the ball hard enough. Unless he can find some of that old patience and power, Markakis won't even be worth a roster spot, let alone $44 million over three more years.